Background - A conventional shell shoe with a stiff sole has a fundamental disadvantage on the ascent: The pivot point between the shoe and ski, which enables walking, must be in front of the tip of the toe. This does not correspond to the human anatomy and causes "angular" walking on skis. Rolling the foot is not possible.
Diese Problematik beschäftigte die Konstrukteure in der Vergangenheit immer wieder. So haben beispielsweise einige Schuhhersteller in den 2000er Jahren mit Gehfalten in der Schuhschale experimentiert (Scarpa F1, etc.) Diesen Ansatz wurde wieder fallen gelassen, weil durch das Fehlen einer Arretierung oder Stabilisierungsmöglichkeit der Schuh in der Abfahrt instabil wurde.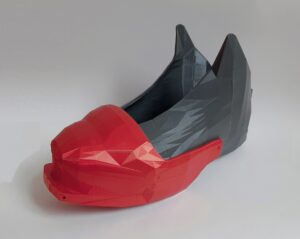 Die Flexcap Prototypen besitzen eine geteilte Schale ("Dual Shell Prinzip"), wodurch ein Abrollen über den Zehenballen ermöglicht wird. In der Abfahrtposition werden die beiden Teile verbunden, womit eine uneingeschränkte Kraftübertragung möglich ist.